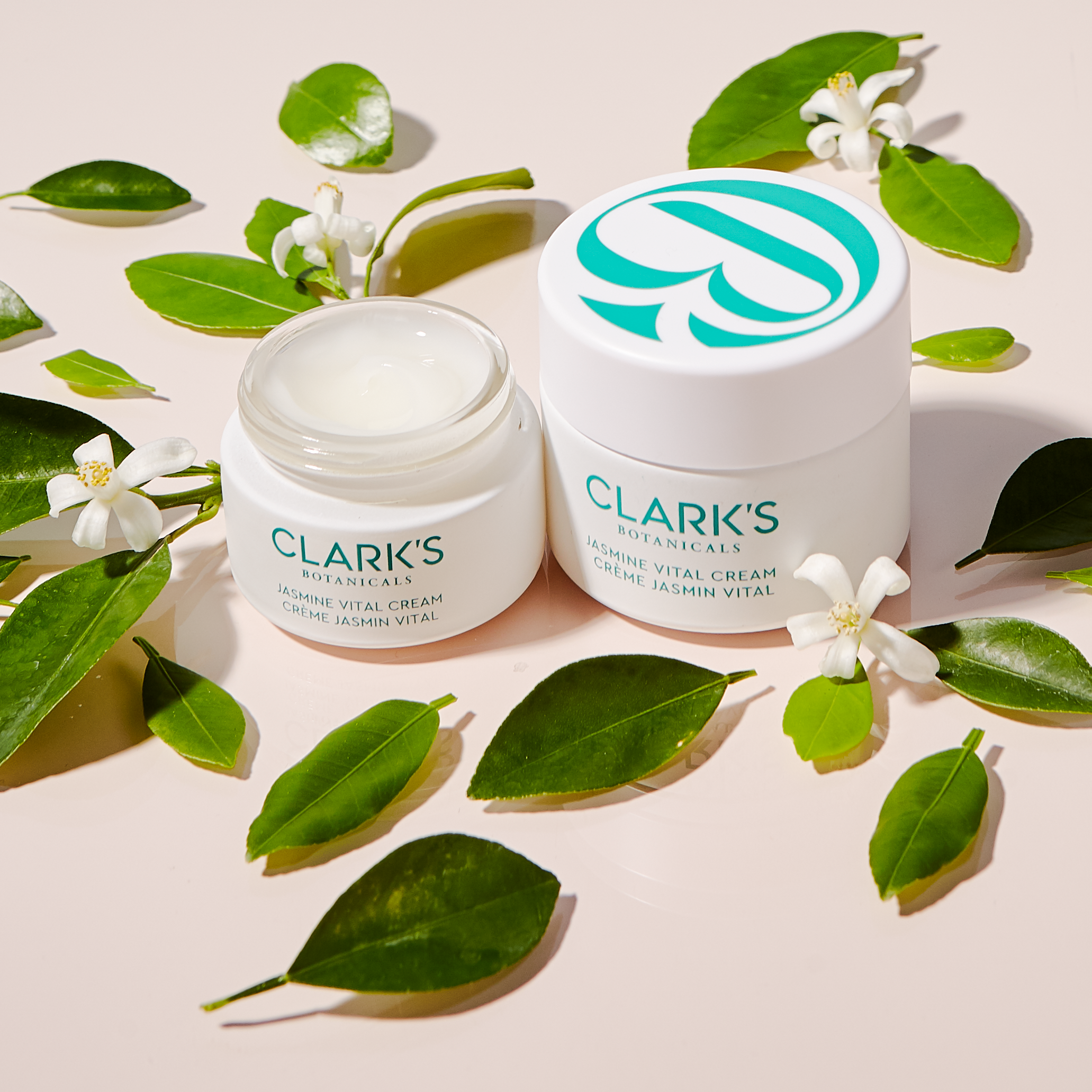 Tapping Nature to Untap Natural Beauty
Clark's Botanicals has been partnering with nature and bottling up age-defying results for over ten years. And one flower inspired it all, the Jasmine flower. Renown through history for its radical healing and balancing properties, Jasmine inspires us still and remains a primary ingredient in our proprietary, Jasmine Catalyst Complex™. 
While each of our products begins with Jasmine Catalyst Complex, one product, Jasmine Vital Cream is its most concentrated version. Like a serum, this gel-cream engages a super-charged version of four active and potent ingredients
Jasmine
A potent and reliable anti-bacterial, antimicrobial and anti-inflammatory agent, Jasmine protects, regulates and calms the skin. This allows for our more aggressive ingredients to bring about their anti-aging changes without irritation. 
Niacinamide
A form of vitamin B-3, Niacinamide is a super star in skincare. It minimizes pores; helps your skin grow its lipid barrier, which helps with moisture retention which in turn can help regulate your skin's oil production. Niacinamide protects your skin from environmental stress (sunlight, pollution and toxins), reduces inflammation, and relieves redness.
Arnica Montana Extract
Arnica is prized for its anti-inflammatory and anti-microbial properties. Anti-inflammatories are especially important in skincare because inflammation is one of the factors that contributes to accelerated aging. Enzymes produced under chronic inflammation destroy healthy skin cells, namely collagen and elastin, the two proteins that keep your skin firm and smooth. 
Italian Red Algae 
This algae rounds out the quartet of skin rejuvenating actives that make up Jasmine Vital Cream's age-defying arsenal. Algae contains high concentrations of minerals, vitamins, antioxidants, and amino and essential fatty acids. It is bio-available (easily absorbed into your skin), and it's a great and natural source of repair and rejuvenation.
With the very first application of this supercharged hydrating gel-cream you'll flood your skin with instant replenishment and repair. 
We LOVE an overachiever, don't you?