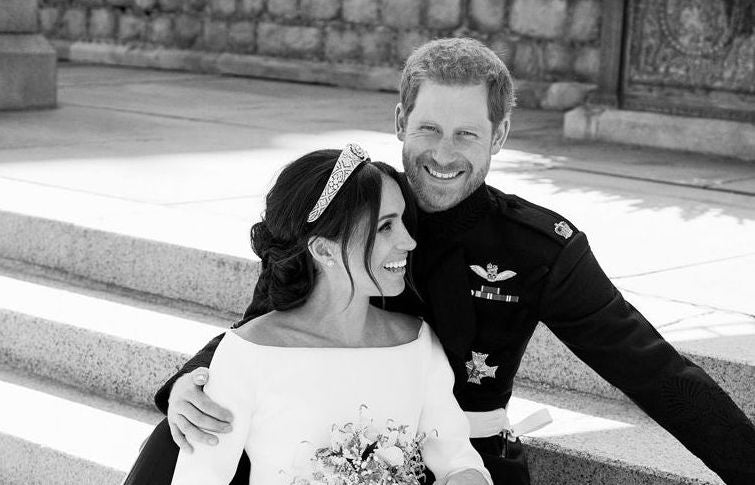 The Man Behind Meghan's Glow
The man behind the glow. We recently had the opportunity to have a quick chat with our favorite makeup artist, Daniel Martin, right after he interviewed us: Clark's Botanicals founder and CEO, Francesco Clark was the featured guest last month on his Instagram Live channel. Although he's best known to the masses for creating Meghan Markle's ethereal wedding day glow (she's a friend and loyal client), Daniel has had a decades-long, and hugely successful career in the beauty industry and is among the most respected makeup artists. His editorial work has been featured in Interview, Vanity Fair, and Harper's Bazaar and he was one of two makeup artists to participate in the historic "All Black" issue of Vogue Italia, shot by photographer Steven Meisel. 
He's in high demand backstage at the most prestigious shows and has collaborated with designers including Chris Benz, Proenza Schouler, Cynthia Rowley, and Khaite. His famous (and flawless) clients include Elisabeth Moss, Jessica Alba, Olivia Palermo, Priyanka Chopra, and Jessica Biel. He's currently a Brand Ambassador for Dior Beauty and the Creative Color Consultant for Honest Beauty. We were fortunate to find him with a little extra time on his hands so that we could grab a little insight from his deep well of skincare knowledge and industry experience.

Skin's your thing and you know it more than most. Would you share with us the skincare tips you swear by to help people to achieve their best possible skin? Understand what works best for you and stick with it. Skincare is a lifelong journey because it goes through a lot of changes and challenges and you have to be patient with it. See how certain serums and moisturizers work through the course of your day by paying attention to what it does to the surface of your skin too. This will help you realize what works and doesn't work for your skin.
And how does that compare to your skincare routine?Because I grew up with cystic acne, I've always had to pay attention to my skin and understand what works and what doesn't. At 46 years old, I've finally figured it out! Less is better for my skin.
What's the most refreshing thing you've witnessed in your industry this past year?People understanding that investing in their skin and skincare products makes their skin better, which makes wearing makeup even more fun because they'll not want to wear so much of it when they see how beautiful their skin is!
You've got your finger on the pulse. What do you foresee trending in skincare in the near future? Because we've spent the last few months spending time taking care of ourselves, we'll see makeup again coming out of quarantine which means dressing up for others and being social again. We'll see more at home devices for self care efficacy and more importantly, people will take more time taking care of themselves with more at-home treatments.
You're surrounded by physical beauty. But what does beauty mean to you? Beauty to me is confidence, kindness and being comfortable in your own skin. Makeup only enhances that inherent beauty that we all have.  
What are your favorite Clark's Botanicals products? Deep Moisture Mask, Dual Charcoal Detox, Nourishing Youth Serum, Anti Puff Eye Cream and the new Hand Sanitizer - I've been using it as an after shave treatment on my head and face before moisturizer and LOVE IT!
What product or ingredient would you like to see in the Clark's Botanicals line? Can you turn the Anti Puff Eye Cream into an eye mask!? So MAJOR if you could!
Do you plan to launch your own makeup or skincare line one day? Oh hell nah, nope not right now...hehe.
Brand Musings
Hello Friends and Happy Mother's Day!  Mothers are not ordinary people. Of course I'm not telling you anything you don't already know, but I hope you'll humor me while I try to capture it. My sense...
Read more